Actualités
retour au blog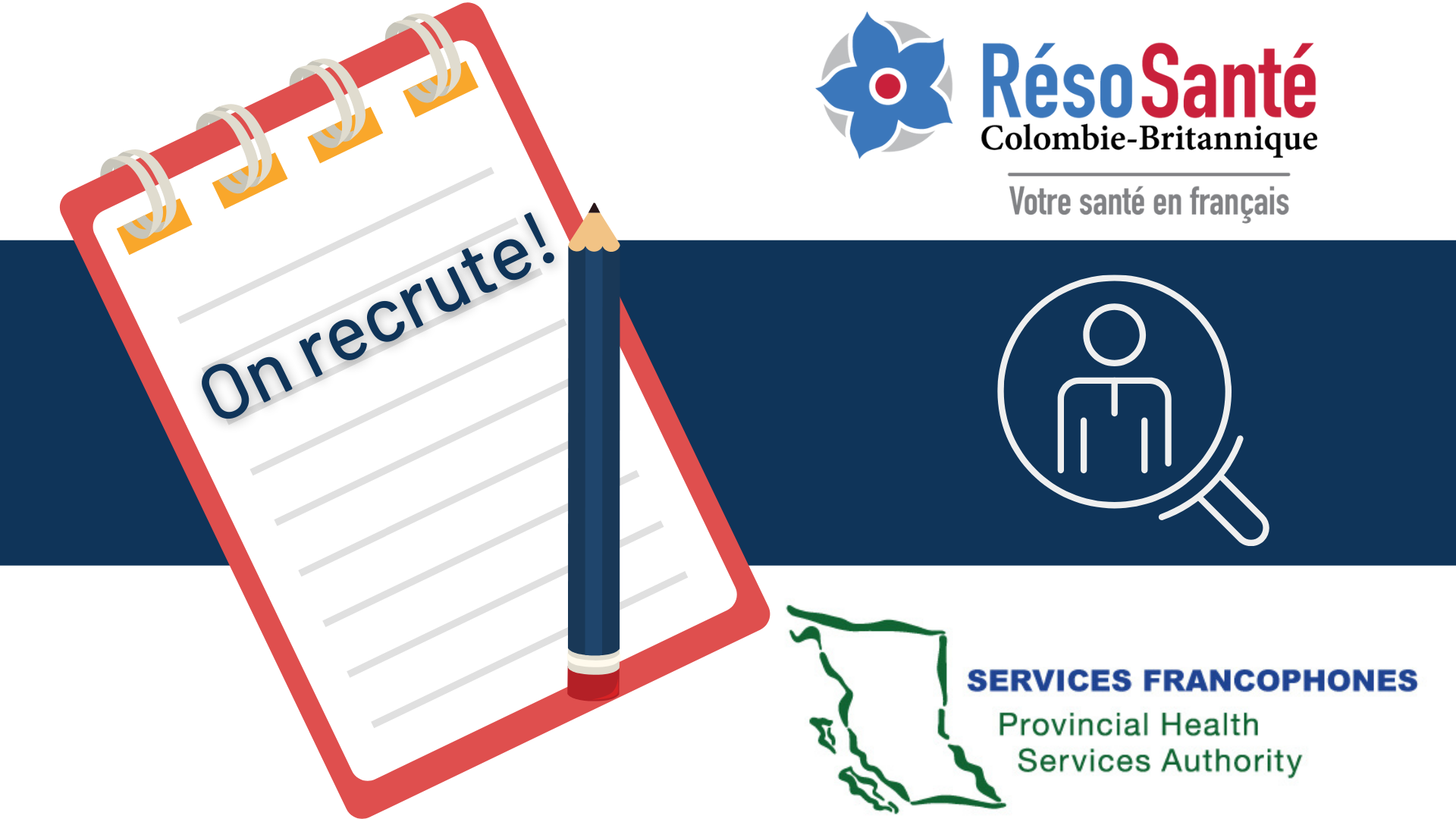 Nouvelles de RésoSanté C.-B.
octobre 5, 2021
Job Opportunity – French Second Language Conversation Class Instructor
The Café de Paris project aims to encourage the active offer of health services in French and to support healthcare providers in being able to satisfy the health needs of Francophone and Acadian minority communities throughout the province.
The Café de Paris is a joint project from the Francophone Services of the Provincial Language Service (a program from the Provincial Health Services Authority) and RésoSanté Colombie-Britannique.
This project is funded by Société Santé en français (SSF).Because of the success of the program, we are looking for a second instructor of French as a Second Language to give one-on-one classes to healthcare professionals in the province. Classes will be held through Zoom (professional account paid for by the organization).
Profile of the ideal candidate:
Bachelor's degree or equivalent obtained
(Language) teaching experience with adults
High flexibility in terms of the target audience, course format and course hours that this position will be working with
Friendly and engaging
Strong listening skills and adaptability
Flexible and able to work independently
Strong work ethic – punctual, honest, organized, and goal-oriented
Asset: Knowledge of the medical workplace and medical terminology
Description of the position:
Prepare French conversation lessons and facilitate face-to-face French conversation classes in an informal, relaxed environment
Adapt the content of the classes according to the needs of participants
Research and creation of educational material
Prepare themed workshops
Create and use project management documents
Provide follow-up questionnaires to participants
Monitor participants' progress
Take meeting minutes and participate in meetings with the Café de Paris project manager
Support the Café de Paris project manager in the development and success of the project
Deadline to apply is Monday, October 25th 2021 at 11:59pm. 
Part time/Contractual 
Number of hours: 25 to 30 hours per week, during the day (Variable hours to be confirmed).
Salary: To be determined based on experience
Start date: Immediately
Duration of contract: Until March 2022, renewable
Location: Remote work from anywhere in British Columbia
Language requirements: Bilingual in French and English
Please send a cover letter in French and your resume as soon as possible to info@resosante.ca with the subject line Formateur.trice en classe de conversation français langue seconde.